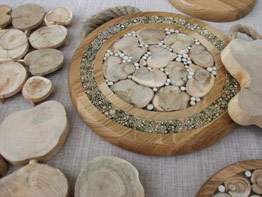 Juniper is a thin branchy coniferous tree that distinguishes by long lasting scent of the essential oils. Especially fragrant are the essential oils of dry, dead juniper that is used to make different craftworks. The coaster, decorated with juniper and herbage stalks, is intended to put on a hot pot; the reverse side of the coaster is an oaken cutting board. If there is a request it is possible to fix the linen hanger on the coaster – cutting board.

Our contacts >

Coasters and cutting board can be washed by hands using warm water and small amount of cleanser.

Attention! Washing dishes in dishwasher is not allowed.
Round juniper coaster PK02

Coaster is intended to put on a hot pot.

Wood: juniper
Size: 1 X Ø 15 cm
Rectangular juniper coaster PK03

Coaster is intended to put on a hot pot.

Wood: juniper
Size: 1,5 X 15 X 15 cm
Coasters - cutting board PK04

Coasters - cutting board with juniper and cornel.

The coaster, decorated with juniper and herbage stalks, is intended to put on a hot pot. The reverse side of the coaster is an oaken cutting board.

Wood: oak
S 1,5 X Ø 11 cm
M 2 X Ø 14 cm
L 2 X Ø 20 cm
Coasters - cutting board PK04-S

Coasters - cutting board with juniper and cornel.

The coaster, decorated with juniper and herbage stalks, is intended to put on a hot pot. The reverse side of the coaster is an oaken cutting board.

Wood: oak
M 2 X 15 X 20 cm
L 2 X 20 X 25 cm
Coasters - cutting board PK05

Coasters - cutting boardwith juniper, cornel and herbage stalks in the centre.

The coaster, decorated with juniper and herbage stalks, is intended to put on a hot pot. The reverse side of the coaster is an oaken cutting board.

It is possible to fix the linen hanger on the coaster – cutting board.

Wood: oak
M 2 X Ø 14 cm
L 2 X Ø 20 cm
Coasters - cutting board PK05-S

Coasters - cutting boardwith juniper, cornel and herbage stalks in the centre.

The coaster, decorated with juniper and herbage stalks, is intended to put on a hot pot. The reverse side of the coaster is an oaken cutting board.

It is possible to fix the linen hanger on the coaster – cutting board.

Wood: oak
M 2 X 15 X 20 cm
L 2 X 20 X 25 cm
Coasters - cutting board PK06

Coasters - cutting board with juniper, cornel and herbage stalks around the edge.

The coaster, decorated with juniper and herbage stalks, is intended to put on a hot pot. The reverse side of the coaster is an oaken cutting board.

Wood: oak
M 2 X Ø 14 cm
L 2 X Ø 20 cm
Coasters - cutting board PK06-S

Coasters - cutting board with juniper, cornel and herbage stalks around the edge.

The coaster, decorated with juniper and herbage stalks, is intended to put on a hot pot. The reverse side of the coaster is an oaken cutting board.

Wood: oak
M 2 X 15 X 20 cm
L 2 X 20 X 25 cm
Coasters - cutting board PK07

Coasters - cutting board with juniper, cornel and herbage stalks in the centre and around the edge.

The coaster, decorated with juniper and herbage stalks, is intended to put on a hot pot. The reverse side of the coaster is an oaken cutting board.

Wood: oak
L 2 X Ø 20 cm
Coasters - cutting board PK07-S

Coasters - cutting board with juniper, cornel and herbage stalks in the centre and around the edge.

The coaster, decorated with juniper and herbage stalks, is intended to put on a hot pot. The reverse side of the coaster is an oaken cutting board.

Wood: oak
L 2 X 20 X 25 cm
Coasters - board PK08

Floristic work with herbage stalks (chicory, cornel, burdock...).
The reverse side is an oaken.

Wood: oak
S 1,5 X Ø 11 cm
M 2 X Ø 14 cm
Coasters - board PK08-S

Floristic work with herbage stalks (chicory, cornel, burdock...).
The reverse side is an oaken.

Wood: oak
M 2 X 15 X 20 cm
Coasters - board - chart PK09

Floristic work with herbage stalks (sweet-flag, flax, nettle, straw...).
The reverse side is an oaken.

Wood: herbal and oak
M 2 X Ø 14 cm
L 2 X Ø 20 cm
Coasters - board- chart PK10

Floristic work with herbage stalks (sweet-flag, flax, nettle, straw...).
The reverse side is an oaken.

Wood: herbal and oak
M 2 X Ø 14 cm
L 2 X Ø 20 cm
Coasters - board- chart PK11

Floristic work with herbage stalks (sweet-flag, flax, nettle, straw...).
The reverse side is an oaken.

Wood: herbal and oak
M 2 X Ø 14 cm
L 2 X Ø 20 cm
Coasters - cutting chart PK12

Floristic work with herbage stalks (sweet-flag, flax, nettle, straw...). Apple from juniper.
The reverse side is an oaken.

Wood: oak
S 1,5 X Ø 11 cm
M 2 X Ø 14 cm
L 2 X Ø 20 cm
Coasters - board - chart PK13

Floristic work with herbage stalks (sweet-flag, flax, nettle, straw...). In the center pieces of juniper.
The reverse side is an oaken.

Wood: oak
M 2 X Ø 14 cm
L 2 X Ø 20 cm
Coasters - board - chart PK13-S

Floristic work with herbage stalks (sweet-flag, flax, nettle, straw...). In the center pieces of juniper.
The reverse side is an oaken.

Wood: oak
M 2 X 15 X 20 cm
L 2 X 20 X 25 cm
Coasters - cutting chart PK14

Floristic work with herbage stalks (sweet-flag, flax, nettle, straw...). Heart from juniper.
The reverse side is an oaken.

Wood: oak, ash
S 1,5 X Ø 11 cm
M 2 X Ø 14 cm
M 2 X 15 X 20 cm
L 2 X Ø 20 cm
Coasters - board - chart PK15

Floristic work with herbage stalks (sweet-flag, flax, nettle, straw...).
The reverse side is an oaken.

Wood: oak, ash
L 2 X Ø 20 cm