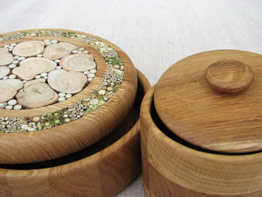 Small oaken tubs are lovely décor both in classic and modern kitchen interior.
Covers with herbage stalks (chicory, cornel, straw, juniper...) ornamentation holds everybody's attention and tells about beauty of nature. Covers with delicate juniper's mosaic can be used as tablemat to put on a hot pot – the heat makes the juniper reveal its volatile oils and spread pleasant aroma. Cover with a handle lets you easy uncover the tub. Cover with a cut for a spoon enable to carry the spoon in the tub and makes it simple to scoop up powdery products.
The tubs are intended for powdery products as well as for herbs, spices, honey to carry in. Salt that has been kept in an oaken tub retains its quality and consistence. The proper cover shuts down simply after you have taken the pinch of salt. All oaken tubs can be perfectly used to keep jewelry and other small things.
Tubs are oiled with the environmentally-friendly compound of beeswax and linseed that makes them damp-proof.

Our contacts >
Dishes can be washed by hands using warm water and small amount of cleanser.
Washing dishes in dishwasher is not allowed.
It is recommended to grease the dishes regularly with nutritional oil using a sponge.
Salt-seller KB02

Salt that has been kept in an oaken tub retains its quality and consistence. The proper cover shuts down simply after you have taken the pinch of salt.

Wood: oak
Size: 15 X Ø 11 cm
Tub KB03

For sugar, salt, spices

Cover with a handle lets you easy uncover the tub. Cover with a cut for a spoon enable to carry the spoon in the tub and makes it simple to scoop up powdery products.

Wood: oak

S 8,5 X Ø 8,5 cm
M 8,5 X Ø 12 cm
L 12 X Ø 12 cm
Tub with herbage stalks décor KB04

For sugar, salt, spices, honey, herbs.

Wood: oak

S 8,5 X Ø 8,5 cm
M 8,5 X Ø 12 cm
L 12 X Ø 12 cm
Wide tub KB05

For nuts, sweets, cookies, jewelry, small things.
The cover apart from herbage stalks can be decorated with juniper mosaic.

Wood: oak
6 X Ø 17 cm
7,5 X Ø 17 cm
Tub - stand for the kitchen tools KB06

The tub can be used as the stand for the kitchen tools.

Wood: oak
S 14 X Ø 13 cm