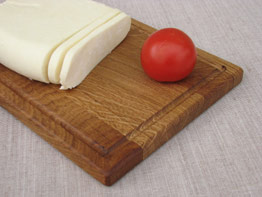 We provide wide choice of various size cutting boards made from oak that is considered a hardwood. Oaken cutting boards are made from bonded wood and oiled with an environmentally-friendly compound of beeswax and linseed causing these boards to become resistant temperature variations and damp-proof. There is a groove at the edge of the board's perimeter that causes all kinds of crumbs or juice out of fruits or vegetables that have been cut to stay on the cutting board and not harm the table or tablecloth.

Our contacts >

Cutting board can be washed by hands using warm water and small amount of cleanser.

Attention! Washing dishes in dishwasher is not allowed.

It is recommended to grease the dishes regularly with nutritional oil using a sponge.
Rectangular cutting board PL01

Cutting boards can be also used as tablemats to serve bread, cheese, snack, roast, pie, pizza.
If there is a request it is possible to drill out the hole or fix the linen hanger on the cutting board.

Wood: oak
S 1,5 X 25 X 17 cm
M 2 X 30 X 20 cm
L 2 X 35 X 25 cm
Max 2 X 45 X 35 cm
Round cutting board PL02

Cutting boards can be also used as tablemats to serve bread, cheese, snack, roast, pie, pizza.
If there is a request it is possible to drill out the hole or fix the linen hanger on the cutting board.

Wood: oak
S 2 X Ø 26 cm
Picnic board PL03

Piknik cutting board have two linen hanger.

Wood: oak
Size: 1 X 19 X 13 cm
Cutting boards stand PL05

Cutting boards stand – is designed for your comfortable and esthetic kitchen view. There can be held cutting boards of all shapes and sizes in the stand. The stand creates additional free space on the kitchen desk as well as in the drawers and cupboards.

Wood: oak
Size: 9 X 16 X 14 cm
Width to 2,2 cm